How Nurbol Nazarbayev Became Owner of Father's Holding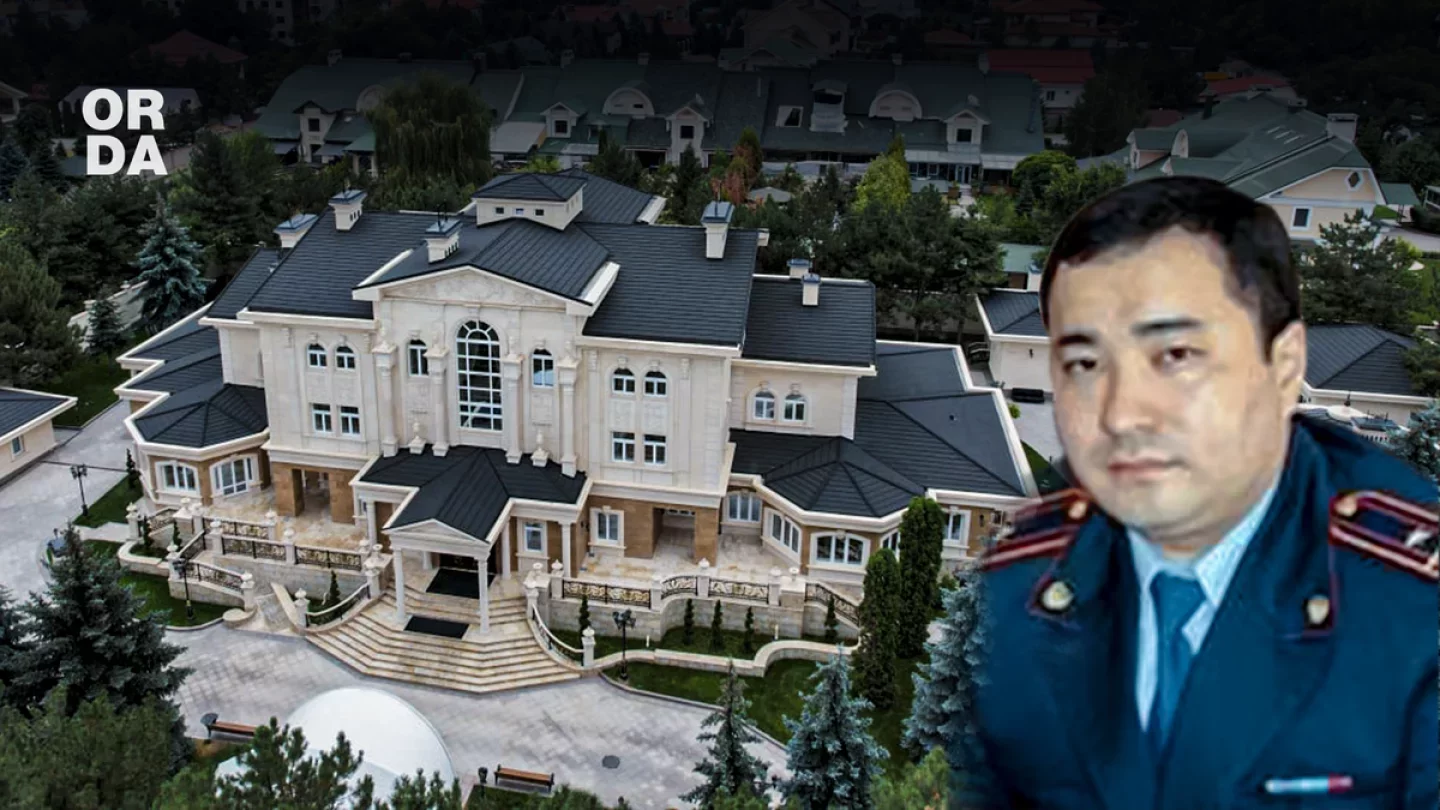 Covercollage Orda.kz
On November 13, in the village of Shamalgan, Almaty region, the former president's younger brother, Bolat Nazarbayev, was laid to rest. Bolat Nazarbayev's business empire stretches across Kazakhstan. In different years, he owned elite real estate outside Kazakhstan. After his death, even if there is a will, a fierce struggle may unfold between his children. Orda.kz found out what has already been inherited.
Bolat Nazarbayev was known for his romantic relationships. An Orda.kz correspondent managed to find out that he was married to Gulzhan, Mayra, and Gulnur Nazarbaev at the same time. His first spouse died in early July 2020 at the age of 65. Bolat divorced his second wife Mayra in 2011. He also tried to divorce his third wife. His daughter Kunduz and son Nurbol supported him in this.
Bolat also had children with other women. He gave them not only expensive jewelry but also houses, apartments, and businesses. In total, about 20 heirs were born, though he did not remember some of their names.
Nurbol Nazarbayev is one of the most private members of the ex—president's family. Despite high positions in law enforcement agencies, only one photo of Bolat Nazarbayev's eldest son can be found in the archives of search engines.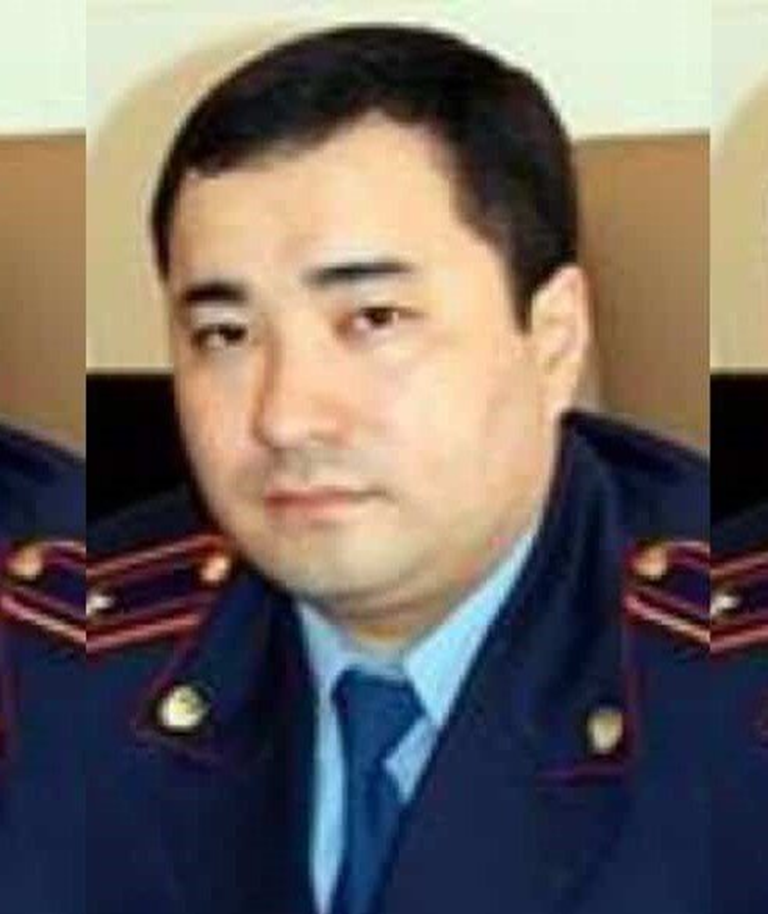 Nurbol Nazarbayev

Nurbol Nazarbayev was a prosecutor, senior investigator for particularly important cases, head of the investigation department and the criminal investigation department in the Almaty region's Department of Internal Affairs (now the police department). Nurbol Nazarbayev left the civil service with the rank of police colonel, his last position was deputy head of the regional PD.
According to Forbes data for May 2023, his wealth is estimated at $155 million, five million less than a year earlier. Nurbol Nazarbayev ranks 45th in the list of the 50 richest businessmen of Kazakhstan.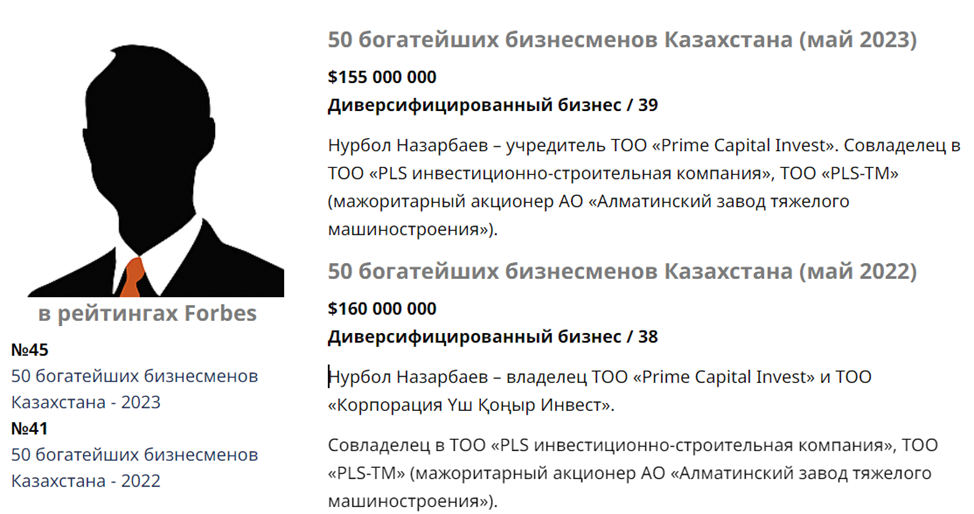 Forbes screenshot

Mechanical Engineering Plant, Chickens, and a Mansion near The Botanical Garden 
Orda.kz has already written about Nurbol Nazarbayev's business and how he acquired the Almaty Heavy Machinery Plant. It should be noted that on March 2, 2023, the judicial board for civil cases of the Supreme Court decided that Bolat Nazarbayev had to return to the state 31.9% of AZTM's shares, which he acquired back in 2007. 
The Department of State Property and Privatization under the contract dated February 18, 1998 sold shares to the winner of the tender, Temir Kon LLP, for 105.3 million tenge. Later, they ended up in Bolat Nazarbayev's possession. He then resold them to PLS-TM LLP.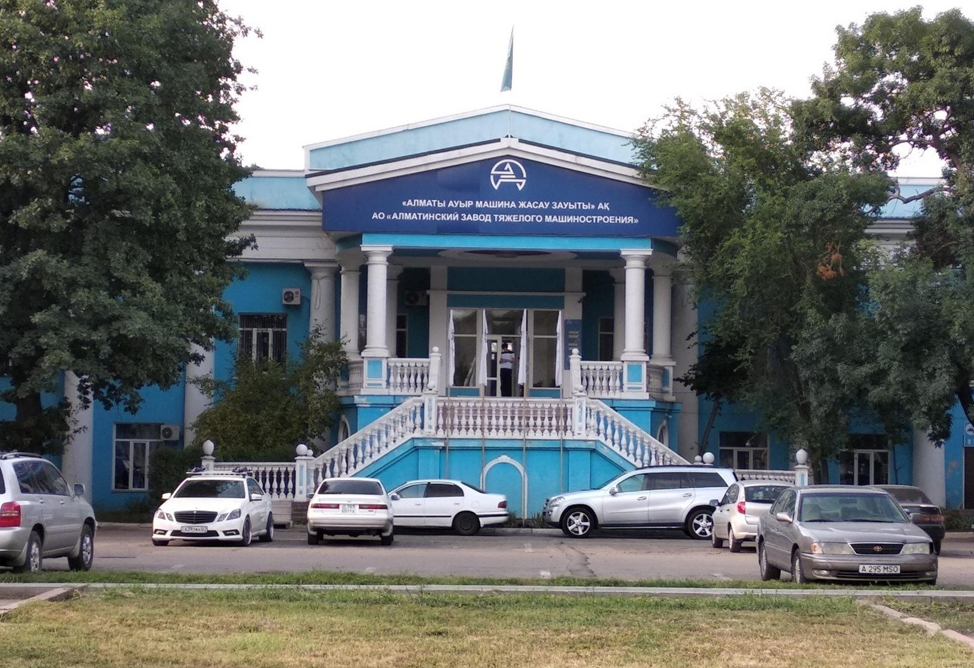 Photo 2GIS

Nurbol Nazarbayev stood at the origins of the Prime Capital Invest investment fund. In June 2021, the organization acquired "Qaz-Ak-Kus" LLP, which sells chicken. The second founder of the organization is Serik Togayev. This year, Qaz-Ak-Kus paid 43.2 million tenge in taxes. 
Nurbol Nazarbayev also received a house from his father in the Bostandyk district of Almaty. The land area is more than 72 acres. It is located between the Botanical Garden and Yuzhny Park. 
Nurbol Nazarbayev became the land's owner on December 22, 2011 under a gift agreement. In February 2020, he built a house.  
Photo Orda.kz

Landscape designers set a huge territory aside for green spaces, leaving another part for outbuildings. 
Father's Holding Company
Bolat's third official wife, Gulnur Duisebayeva, indicated in the lawsuit a list of companies that she considered property jointly acquired over 14 years. Among them was "PrimeCapitalHolding" LLP, which includes a whole list of enterprises. In most of these organizations, the director's chair is occupied by Bauyrzhan Dzhaksybayev.
Prime Capital Real Estate — real estate renting and management (founder in "NF Trade" LLP — wholesale of non—food products; "Prime Capital RE Plaza" LLP -  real estate renting and management)
Prime Capital RE Ushkonyr —  real estate renting and management
Prime Capital RE Talgar —  real estate renting and management
Prime Capital RE Alakol —  real estate renting and management
PRIME CAPITAL PLAZA BC — rental (sublease) and operation of leased real estate
Nursery "Asyl Mura" — preschool education
Prime Capital RE Karasay — purchase and sale of other real estate (founder in Breeding Company LLP — mixed agriculture; Stepe AgroMeat LLP — mixed agriculture, animal breeding and cultivation of grain and leguminous crops; Qaz Agro Centre LLP — cultivation of grain and leguminous crops, horse breeding)
PC Alakol Operation — other types of recreation and entertainment activities
Prime Services — consulting on commercial activities and management (founder in "BAHAR-A" LLP — restaurants and food delivery services).
The companies with real estate, restaurants and agricultural production were transferred to the eldest of the sons in April 2023. After that, Nurbol changed the director of the holding from Eldar Aldashev to Sanat Zorbayev, the son of Bolat Nazarbayev's neighbor — Abugali.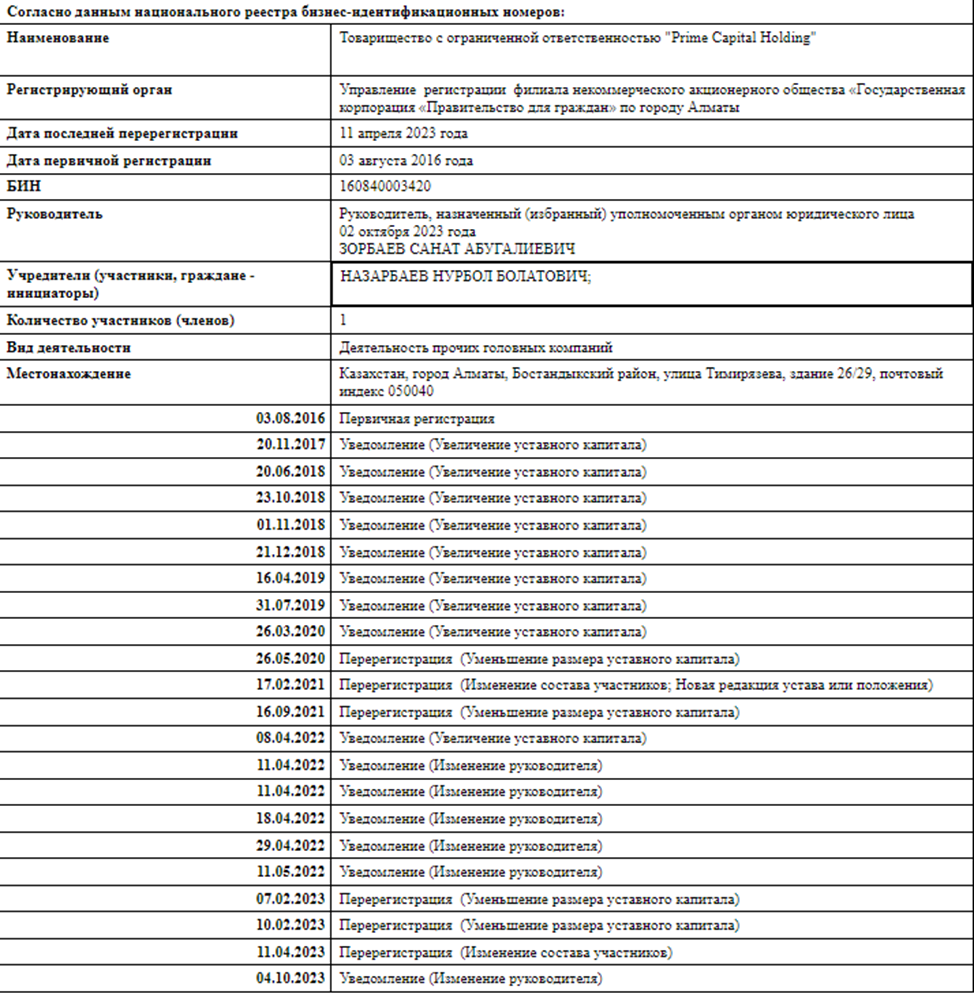 Screenshot from Egov.kz

In December 2020, Abugali Zorbayev acquired Merey-K LLP, engaged in forestry in Shamalgan, from Prime Capital RE Karasay. Earlier, the director of the organization was a long-time acquaintance of Nurbol Nazarabayev from AZTM, Damir Kalibekuly.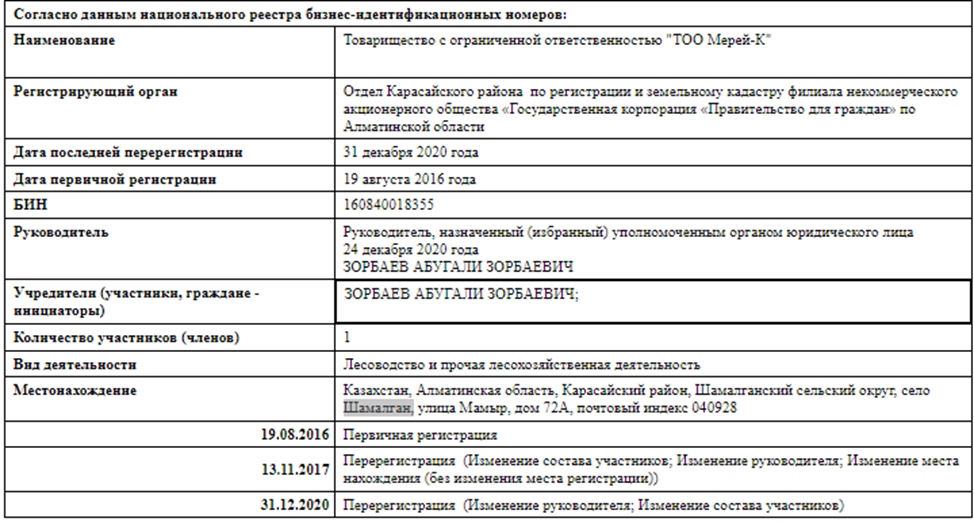 Screenshot from Egov.kz

But let's return to the former holding of Bolat Nazarbayev. Despite managing 15 companies, PrimeCapitalHolding LLP cannot speak of large tax contributions. This year it contributed only 33 thousand tenge to the state budget, and last year — 5 million tenge. 

Screenshot kgd.gov.kz

That's how Nurbol Nazarbayev became the owner of one of his father's largest assets prior to his passing and the reading of his will. Orda's editorial board will continue to monitor the situation.
Original Author: Maria Gorbokonenko
DISCLAIMER: This is a translated piece. The text has been modified, the content is the same. Please refer to the original piece in Russian for accuracy.