EU Representatives Gave Exclusive Interview to Orda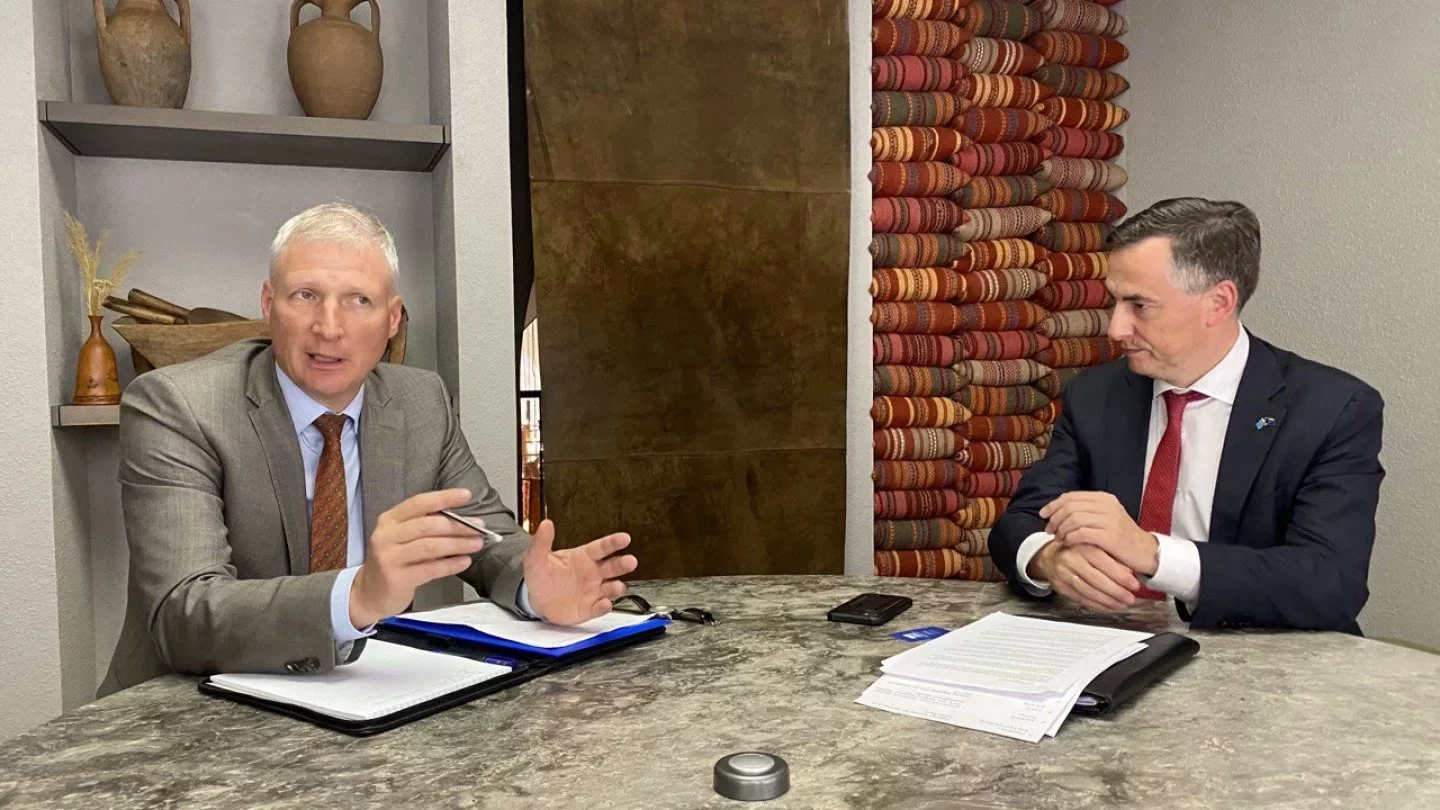 Photo: Maksim Skopin
A delegation of the European Parliament headed by David McAllister, a member of the European Parliament and head of the Committee on Foreign Affairs, visited Kazakhstan.
Mr McAllister gave an exclusive interview to Orda.kz. He spoke about what Kazakhstan needs to work on, possible sanctions, and reforms occurring in our country. Mr McAllister also touched base on Schengen visas and the issue of water in the region.
The parliamentary group from Brussels spent several days in Kazakhstan, a trip that was followed by another one to Kyrgyzstan. In Astana, meetings were held with Majilis deputies and members of the government
Meanwhile, in Almaty, the delegation met with business community members, members of civil society, and independent media.
All this is being done to conduct a detailed analysis of the EU strategy on Central Asia, presented in 2019. EU Ambassador to Kazakhstan, Kęstutis Jankauskas, also took part in the conversation. He has been working in Kazakhstan since 2021.
Orda.kz : Are there any concerns that the EU has in regards to Kazakhstan?
DM: I would say that we welcome the political reforms suggested and implemented by President Toqayev in 2022-2023. They go into the right direction, and we support that. Indeed, the country still has a long way to go. But we believe that they are going in the right direction. We would encourage the Government and the Assembly to continue the political and economic reforms. Particularly in the area of the political freedoms: freedom of association, freedom of assembly, and media freedom. This is what we've made clear in every single conversation with our interlocutors.
We, as the European Parliament, welcomed the decision to invite OSCE ODIHR to monitor the referendum, the presidential, and parliamentary elections. That was good that they were here. Now we would encourage the Kazakh authorities to implement the recommendations proposed in the ODIHR's election monitoring reports. Like other colleagues, I am quite experienced in election observation. I've been to a few countries, and I would always advise the recommendations from OSCE ODIHR to be taken seriously. We also discussed the draft new media law, as we have been informed, it has been sent to the OSCE representative for the freedom of media for comments and review. We welcome this.
Once he has made his comments, we do hope that, then, the comments and proposals will be taken into account. So, this is the first point we made, and the second, briefly. As regards to the events in January 2022, we welcome the investigations and prosecutions of the alleged torture cases. Remaining open cases should be brought to  closure as soon as possible. From our perspective, the whole process took too long and is still taking too long. A faster and more decisive process would have helped to send a stronger message and a stronger signal that torture is unacceptable without any exceptions. We would encourage the Kazakh authorities to positively look into the medical treatment and also the compensation of the torture victims.
Regarding the main investigation, of course, this was also a question in every single conversation of when we can expect the final report on what happened in January 2022. Kazakhstan has insisted that it will make its own investigations and provide a report, we are waiting for that. Not only in the European Union, but especially the people of Kazakhstan. Both the great people of Kazakhstan and the international community deserve to know what was actually behind the January Events.
So, these were political measures, and then on our relations with the European Union. We have the enhanced partnership and cooperation agreement, a solid basis for our relations. We have traditionally good relations with Kazakhstan. Kazakhstan is an important partner for us, we just celebrated our 30th anniversary of diplomatic relations. The EU is Kazakhstan's main trading partner and biggest investor, and we are trying to maintain this position. Two points are of big importance now for us. One is the cooperation in the area of the critical raw materials, which is something which is very crucial for us in organizing the necessary transition, and the other point is the Trans-Caspian Corridor. This is important because collectivity is key, the European Union, as you will know, has launched the "Global Gateway", which is our offer to invest in infrastructure.
Orda: So you are ready to invest in the infrastructure of this corridor? 
DM: We all agree on the importance of the Trans-Caspian Corridor for our collectivity, we will be working to support it, and there will be a big "Global Gateway" conference in October in Brussels, which president Ursula von and I will personally open and attend, and there will be an investors forum in January 2024, also in Brussels. All of this will be based on the well-known EBRD study. The ambassador of course is our man on the ground who knows best.
KJ: And we expect to visit at the beginning of September and also (expect - Ed.) the European Commission to start preparing that investors conference because ideally, yes, we want mature projects, but in order to get there we need to start preparing now.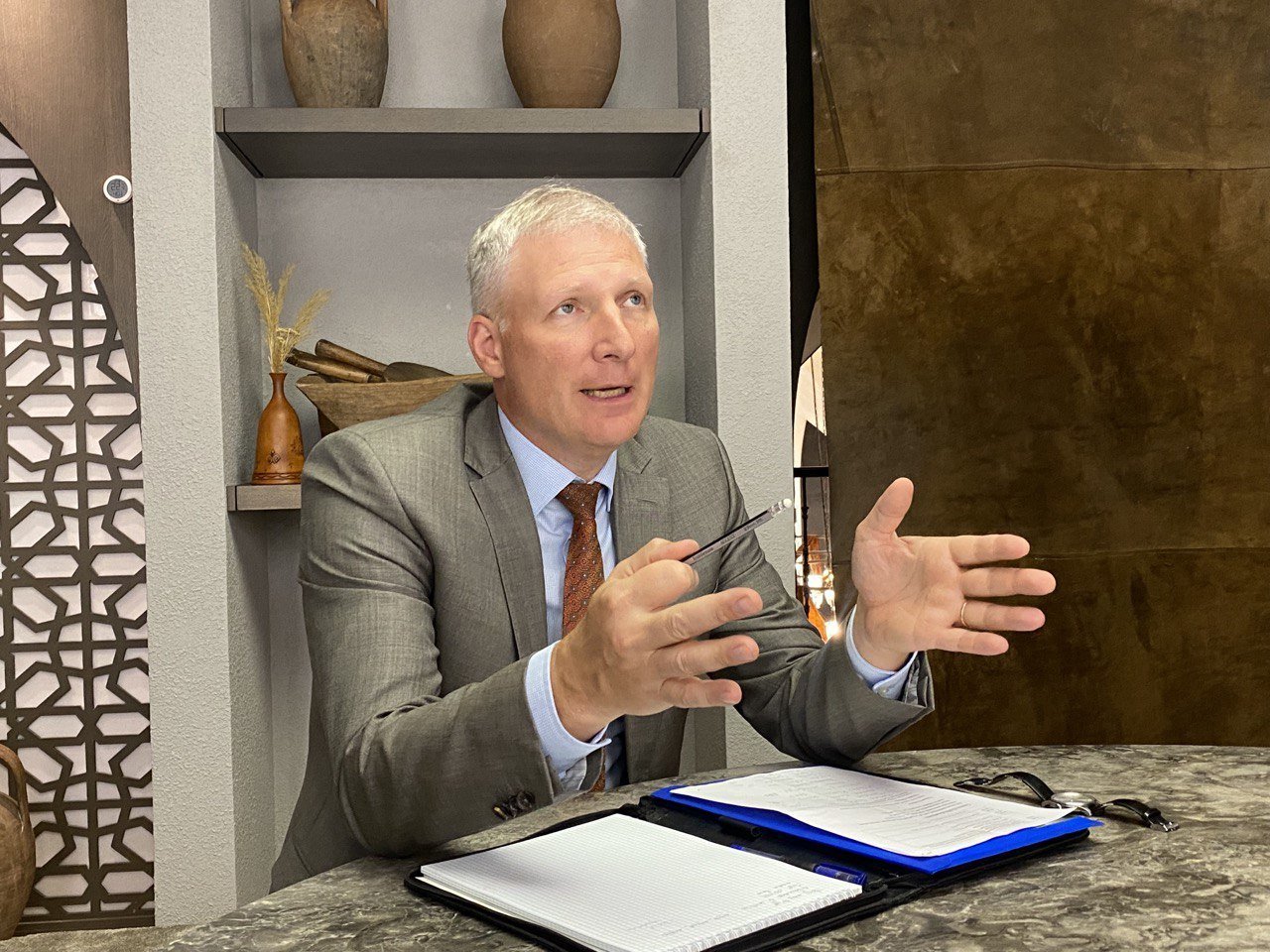 EU Ambassador to Kazakhstan, Kęstutis Jankauskas, photo Maxim Skopin
Orda: Regarding the sanctions against Russia due to its war of aggression in Ukraine, the West often critiques Central Asia for trading with Russia, but are there any concrete measures being being taken or alternatives offered to mitigate the sanctions' repercussions?
DM: Next to the internal reforms and developments in Kazakhstan and the economic (word unintelligible due to background noise - Ed.). As a third point, I would also like to touch on the circumvention of Sanctions. To start with, The European Members states, the European Parliament, we appreciate the principled position of Kazakhstan regarding the war of aggression against Ukraine based on the United Nation's Charter and international laws. We understand how difficult it might be to maintain this position taking into account Kazakhstan's membership in the CSTO and the EAEU, but we believe Kazakhstan will be able to do so, also because of its own interests.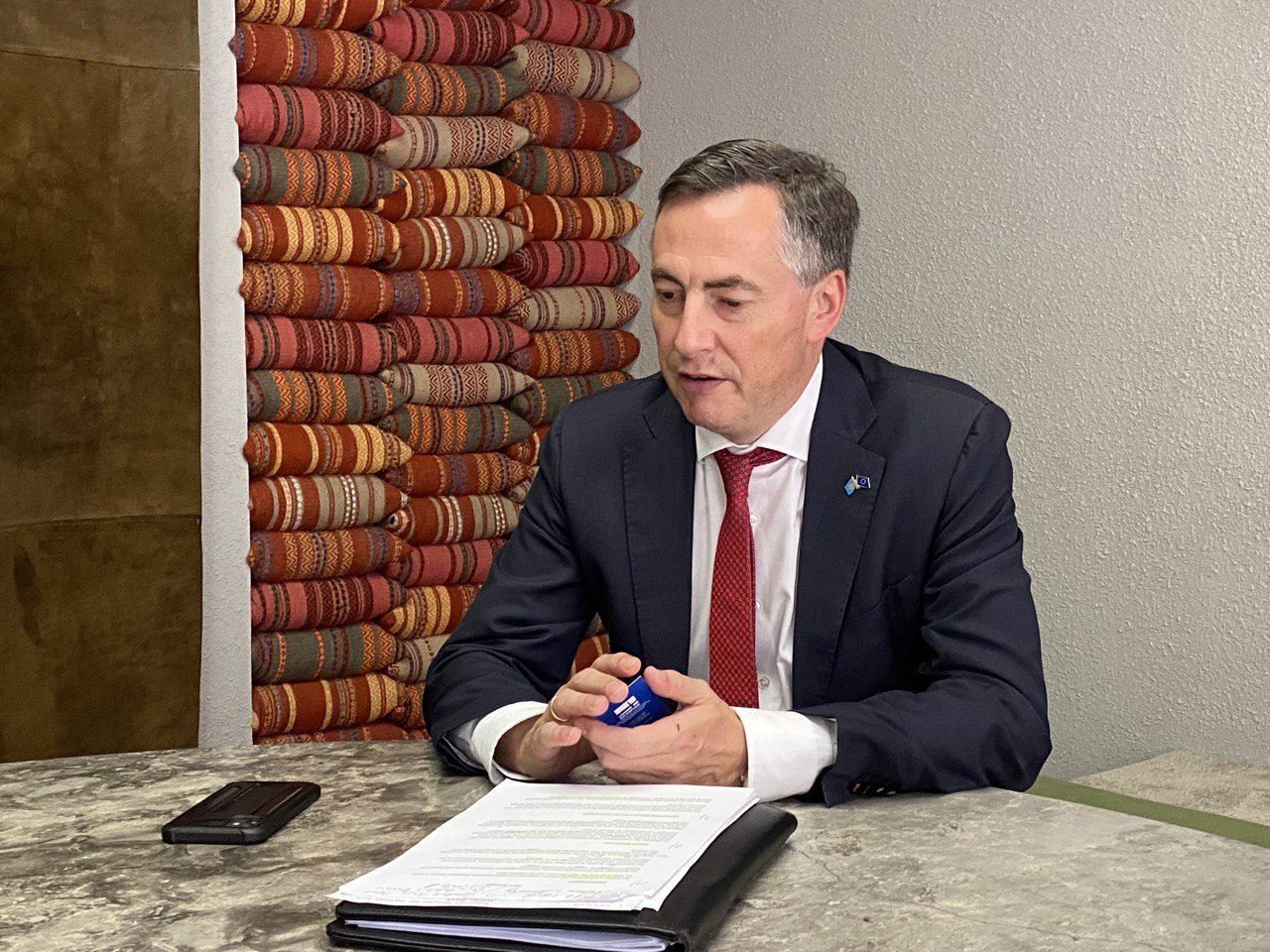 Member of the European Parliament, David McAllister, photo Maxim Skopin
Now, on the sanctions. What we in all our meetings made clear is that the EU's sanctions are aimed at aggressor countries - Russia and Belarus. Not at Kazakhstan. We understand the impact the sanctions have had for Kazakhstan and we are working to help Kazakhstan to diversify its supply chains. But, as you rightly mentioned, there's obviously data suggestion that some circumvention of sanctions has taken place in countries, in Central Asia, including Kazakhstan, including Kyrgyzstan, where we will be traveling tonight.
We appreciate the engagement of the Kazakh government with us on this issue. We welcome the first steps taken to make sure that Kazakhstan is not used to circumvent the sanctions. The latest data we have received indicates that this work is going in the right direction. We would encourage Kazakhstan to continue staying on this right direction and to stay in close touch with our experts.
The EU, as you know, has appointed a very experienced diplomat, David O'Sullivan, who is now dealing with this matter. We had David O'Sullivan in the Foreign Affairs Committee of the European Parliament before the summer break, where he presented his work and also said "I will now be traveling to the region, I will be talking to them about what we can do." So, there is one point. I would also like to underline that we welcome the decision in Astana to extend the moratorium on the exports of military equipment to Russia.
In general, sanctions only work if they are water tight. That's why we have a key interest in exercising maximum pressure on the Russian Federation, but I think it is also in the interest of Kazakhstan because a failure to address issues of the potential circumvention of sanctions could result in a negative reputation risk for Kazakhstan and also perhaps for trade and the willingness of European Businesses to invest. So, we are both sitting here on the same boat. This topic has been identified, and we are working with our Kazakh partners on finding solutions. Mr Ambassador is dealing with this every day.
KJ: True, absolutely right, I think it is in Kazakhstan's interests to take the necessary (steps - Ed.) and that the government keeps confirming to make sure that it is not regarded as a country used for circumventions because, in that way, Kazakhstan will benefit a lot from technologies being available for their, for your development of the country, economy, our cooperation, investment, you name it.
Orda: And when will these things come? 
KJ: They have, we are already the biggest investors. And as the Chairman said, we are absolutely determined to keep this position. The work on critical raw materials is underway. There's projects on connectivity. Connectivity is not only the Trans-Caspian Corridor, connectivity its people-to-people, digital productivity, it's all kinds of things transport, aviation.
DM: Energy, water.
KJ: Yes.
DM: This is also something we have learned here - the issue of water. Perhaps, to summarize, we are all living in times of extreme geopolitical shifts. And the 24th February 2022 has changed so many things, also beliefs we had in the European Union. What we are definitely seeing is a renewed interest, in Brussels, in the European Union, in Central Asia because, we look at the map, and between us and the European Union and China what's in-between? The five Central Asian Republics. And that's why there's increased political activity towards the region, and just as what happens in Europe, matters to the Central Asian countries, what happens here, matters to us.  That's why what happens here has a direct impact on us, and that's why I think in the next years you will see increased European activity here in the region.
One small step will also be the Central Asian report of the European Parliament. We will probably be the first ones to assess the strategy, which was presented in 2019, but that's our role as parliamentarians - to scrutinize the work of our executive. In this case the European External Actions Service. What I very much enjoyed was our event with the international representatives. It was good to see the European institutions, The World Bank, The IMF, USAID working hand-in-hand, The Asian Development Bank, the member states, big countries like France and Germany, small countries like Lithuania that are active here. So that's where we are.

Orda: Unfortunately, we see more problems with getting a visa to the EU, in other words what the people see. It's also no secret that there are issues with human rights in the region, how does the EU intend to improve this? 

DM: As you know, the European Parliament is a staunch defender and promoter of human rights. Globally. Not only in Europe, globally, because we believe that human rights apply to every single human being in the word. Whether he or she is at home. The subcommittee on human rights was here last year. And you will have also followed a number of policy papers, resolutions, the European Parliament has adopted on the human rights situation in various countries.
The last one we just adopted was on Kyrgyzstan before the summer break. I am, like my colleagues, and I think all of us sitting at this table, are singing from the same hymn sheet when it comes to human rights. We have been clear in our messaging with our Kazakh interlocutors. Fundamental freedoms are important, freedom of association, media freedom. We call on the immediate release of political prisoners. We urge Kazakh authorities to respect human rights and fundamental freedoms. Then, another point, which is important for me, is that we welcome the December 2021 bill to abolish the death penalty. The European Parliament has always been a staunch critic of the death penalty.
And the January 2021 decree ratifying the United Nations' protocol on The International Covenant on Civil and Political Rights. So, we welcome that. A final point, which I made at the beginning, these torture cases in 2022, those were severe violations of human rights. They need to be fully analyzed, they need to be brought to a closure, and then those who are responsible need to be held accountable. That's the least we can do, and also medical treatment and compensation for those who suffered.
The engagement with the European Union is always valued, spaced, and principled, as we say.  And that's why in our partnership incorporation agreement it's always important that this is always based on shared values and also on the concrete engagement towards democracy and the rule of law. That's the big difference regarding The People's Republic of China.
Orda: What if your signals are not heard? 
DM: You mentioned Kazakhstan's interest in concluding a visa facilitation agreement, which would, of course, be for the benefit of the people, we fully understand that. I think here it is important, for instance, that the government is committed to applying international standards, best practices in the area of mobility and migration management, particularly towards the visa policy.
Our cooperation is based on a partnership and we want to motivate, we want to support Kazakhstan in continuing a path towards the right direction. As I said in the beginning, the reforms that the President has brought, we welcome them, but now it's about the implementation. The EU will always be a partner of Kazakhstan when it comes to strengthening the rule of law, human rights, and democracy. Ambassador please.
KJ: Absolutely, once again it's important to underline, it's not us bringing something in, trying to enforce it in Kazakhstan. These are the commitments of Kazakhstan itself, which they have undertaken within the United Nations, within the OSCE, in our enhanced partnership cooperation agreement. We want to help our partner Kazakhstan implement its own commitments, their own commitments to these principles, and we truly believe that in our case, following this value based approach to international principles lets people become better, feel safer, and helps countries become more prosperous.
DM: This morning we had a meeting with representatives of NGOs and civil society, and I think we should also add that we are deeply concerned regarding the law here on NGOs, which makes it very difficult for NGOs to exist and to operate in an independent way. We would really urge the Kazakh authorities to guarantee that all human rights activists and NGOs are able to carry out their important work without any kind of fear.
Orda: So if I understand correctly, if such improvements in these areas are seen and if there is more cooperation with Europe, will it be easier to get visas?
DM: Well, as the ambassador said, we believe that strengthening these fundamental rights is beneficial for the people of Kazakhstan. We are sometimes criticized, "Oh, you, the European Union, you are trying to impose human rights from Europe to other parts of the world!", and we say no, it's the global concept, human rights, as the name says, are rights of all humans, and that's why if we see countries developing in a good direction, and if we see that more and more of our values are shared, then of course there is more motivation among the EU and the member states to move onto other fields of cooperation.
KJ: When the new foreign minister of Kazakhstan visited Brussels in May this year, they had agreed to start the dialogue with the European Commission on easing the visa issue. So, this work is on the way and we'll continue doing that.
Orda: So there has already been meetings?
KJ: Yes, he met with the DG home commissioner. There was a very quick and good decisive meeting when they agreed to have a dialogue about that, and that dialogue should start now very soon.
DM: Yes, so we are expecting visitors from Kazakhstan to Brussels. I was sitting next to the chairwoman of the Foreign Affairs Committee yesterday, and she said she would be coming to Brussels. This is also important that we also strengthen the contacts not only between business and business, diplomats and diplomats, but also at the political level. Politicians can perhaps best talk to politicians because we have something in common. We do hope members of the Majilis will support the necessary reforms in this country.
A final point we would like to underline is Kazakhstan's important role within the Central Asia 5 and that also this administration is dedicated to closer regional cooperation among the 5. As the EU 27, we are always happy to see closer regional cooperation in other parts of the world, within the GCC, within the Central Asia 5, Latin America, or the African Union, just to name a few. Or, Of course ASEAN.
Orda: How would encourage these 5 countries to come together? 
DM: One thing is collectivity. Bring them together. We see the same thing in the Western Balkans in Europe. If people come visit each other, businesses come to do business with each other because, if there's no roads no rail tracks, then things get difficult. The other point is that we all live in the same world, and respect for the international rules-based order is key, and we all respect each other. Small countries, medium sized countries, big countries. That is also why the Russian war of aggression against Ukraine is not something, which is happening in Europe, it has an impact on the entire world. Because if the Russian Federation succeeds in this war, it will be very bad news for all small, medium-sized countries, and not so big countries in the world because then the bullies have all the say. And that's why the international rules-based order protects the small and medium sized countries against the bullies. Here, I see, despite all the relations with the Russian Federation, all the Central Asian Countries know what's at stake. And that's why we welcome their principled position.
Orda: But they are still very dependent on Russia, especially Tajikistan, Kyrgyzstan, Uzbekistan in regard to migrant workers.
DM: Yes, we understand that and the links which were created voluntarily, or not so voluntarily, during the Soviet Union times. We want to support the Central Asian countries in diversifying and decreasing their dependencies.
KJ: Just to add, we marked the 30th anniversary of our diplomatic relations, millions and millions of cooperation programs that the EU has offered, the majority of them, 90%, are regional, are for encouraging better cooperation together in water, cross border trade, setting up the market, a variety of things.
Orda: But what we are seeing does not work very well.
KJ: It's a work in progress, it's getting better. If you look at the last initiative, now it's going to be the five Central Asian presidents meeting in Dushanbe in mid September, they met Issyk Kul last summer, proposed a new agreement, I think things are moving forward. We see that in trade, at least in economic matters, it is getting better. Because for us, The Union of 27, the 20 million market of Kazakhstan, it's a big country with only a 20 million market. Central Asian is a 78-80 million market, that market works together, you are a bigger power.